Schmidt, Klaus M.
ORCID: https://orcid.org/0000-0002-5011-0828

(January 2009): The Role of Experiments for the Development of Economic Theories. SFB/TR 15 Discussion Paper No. 252 [PDF, 309kB]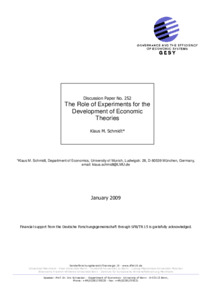 Preview

Download (309kB)
Abstract
Economic experiments interact with economic theories in various ways. First of all they are used to test economic theories. However, they can neither confirm nor falsify them in a strict sense. They rather inform us about the range of applicability, the robustness and the predictive power of a theory. Furthermore, economic experiments discover and isolate phenomena and challenge economic theorists to explain them. Finally, many economic experiments are "material" models. They are used to analyse and predict how changes in the environment affect economic outcomes. However, they cannot offer an explanation for what we observe. This has to be provided by economic theory.
Actions (login required)
View Item