Open Access LMU
---
Open Access means free and unrestricted online access to scientific and scholarly publications on the internet. The University Library's Open Access LMU provides a hosting platform for academic publications.
Teaching and research staff of all LMU faculties are invited to make their publications available internationally according to the principles of the Berlin Declaration on Open Access to Knowledge in the Sciences and Humanities by filing them on this server.
Open Publishing LMU offers the option to publish a printed book in parallel to your electronic publication.
The University Library
hosts the required technical and organisational framework,
offers authors guidance and support during the publication process
provides a permanent address for your publications by allocating "Persistent Identifiers" (URNs), registered with the German National Library (Deutsche Nationalbibliothek),
enables the exchange of standard metadata with other servers by means of the OAI-PMH interface, thereby ensuring that your publication will be found by search engines and bibliographical indices all over the world,
guarantees long-term archiving of your publications,
guarantees the availability of all documents on the server for at least 10 years,
maintains usage statistics
Respecting usage rights you can upload to the server publications such as:
monographs (in full or in part)
contributions and chapters in collective works
journal articles
conference papers
talks or lectures, all of which may also include images, videos or audio documents in addition to text
If you wish to upload a diploma, master's, bachelor's or Magister thesis, please follow these instructions.
Please upload your dissertation to the server for electronic theses by following the instructions on Electronic Thesis of LMU Munich.
Some disciplines also host moderated series in which one or more editors decide whether to include a particular publication. If you are interested in publishing your work in one of the moderated series, please get in touch with one of the editors:
To upload your publications to Open Access LMU, you must first register once on Open Access LMU. You will then receive an e-mail containing a link to confirm your user account. You can then login into Open Access LMU immediately.
If you wish your publications to be linked to your ORCID account, please complete the registration by entering your LMU ID in your profile on Open Access LMU.

The LMU-ID is required to link your publications to your ORCID iD (see ORCID (Open Researcher and Contributor ID)). Your LMU ID consists of a code of 16 random characters. It is not possible to draw any conclusions about your person from the LMU-ID alone.

You can find your LMU-ID in your user account of the LMU service portal: https://www.portal.uni-muenchen.de/benutzerkonto/index.html. The ORCID-iD field cannot be written to manually, but is automatically filled with your ORCID iD after Open Access LMU has been linked to your ORCID account.
If you do not want a link to ORCID, there is no need to enter the LMU ID in your Open Access LMU profile. Then please skip point 1.
You can upload your own publications to the server. For this you will require a user name and a password. You can select both during the once-only registration process. You will then receive an e-mail containing a link which you must click to confirm your user account.
After logging in, please click on on the button New Item. Now select the appropriate item type.
Click on Next, or alternatively on the tab Upload. You can now upload your full-text file(s). We recommend you to use the formats PDF/A, PDF, EPUB, HTML or XML. After your file has been successfully uploaded click on Show options to enter a further description of the document or to grant a Creative-Commons-License for your file.
Click on Next, or alternatively on the tab Details. Please fill in at least all fields marked with an asterisk. We recommend to also select the language of the publication title.
Click on Next, or alternatively on the tab Abstract. At this point you can enter an abstract, keywords and your literature list. These fields are optional. If you click on the button More input rows below the Abstract and Keyword fields, you can enter additional abstracts and keywords in more languages.
Click on Next, or alternatively on the tab Subjects. In the section Collection please click on the institution you belong to. Click on an appropriate subject in the section Subjects and select a further subsection if necessary.
Click on Next, or alternatively on the tab EU-FP7. If your publication was written within a EU-FP7 project, please fill out the appropriate fields here; if not, check the field No or Unspecified.
Click on Next, or alternatively on the tab Deposit. A usage rights declaration will be displayed, enabling you to grant the University Library permission to store your publication and make it publicly visible. By clicking on Deposit you agree to the terms of the text displayed.
At any time during the publication procedure you can save your progress by pressing Save and continue later without losing any data. The Library or a contact person from the appropriate faculty will check the indexing details before final publication.
ORCID (Open Researcher and Contributor ID) is a non-profit organization that assigns and manages unique identification numbers (

ORCID iDs) for authors. The service is supported internationally by numerous research institutions, funding institutions, scientific publishers and libraries. The University Library of the Ludwig-Maximilians-University Munich is also a member of ORCID.
ORCID and Open Access LMU are linked so that you can export your publications from Open Access LMU to ORCID or vice versa, your publications from ORCID to Open Access LMU.
Further information about ORCID is available here: https://epub.ub.uni-muenchen.de/orcid.html
Once published, documents can only be deleted from the server in exceptional circumstances (for example in the case of legal difficulties). If there is a change in content the document will be saved as a new version.
Authors are responsible for ensuring that third-party legal rights regarding copyright and usage are observed. If other authors are involved in your publication besides yourself, you will need their consent. You confirm this by agreeing to the terms of the usage rights declaration at the end of the publication process.
In order to publish on Open Access LMU you are required to grant the University Library a permanent non-exclusive usage license allowing the University Library to store your publication on its servers and to make it available publicly without restriction. You further grant the University Library permission to forward your publication to other libraries and portals, in particular to the German National Library in Frankfurt/Main.
Granting non-exclusive usage rights means that you can still post your publication elsewhere or print it without asking the University Library for permission. You can also grant a third party the right to post your publication elsewhere or print it. However, you can no longer grant a third party exclusive usage rights.
If you plan to release your work through a publisher, you should make sure you award the publisher non-exclusive rights only (not exclusive usage rights) if at all possible. You will then be able to publish additional copies of your work on repositories such as Open Access LMU. You will find a suggestion on how to extend the contract with your publisher on the Server of the European Commission.
Many journals allow works to be published in parallel on an institutional Open-Access-Server, either simultaneously or after a certain period has elapsed, usually a couple of months. The SHERPA-RoMEO-list gives you information to individual publishers and journals.
As copyright holder you decide to what extent and on what terms others may re-use your publication, e.g. by granting a Creative Commons License. Creative Commons are standardised license agreements.
The following Creative Commons Licenses (version 4.0) are available at Open Access LMU:
According to the principles of Open Access we recommend CC-BY.
Ad 2 under the section Publishing on Open Access LMU shows how to select the license appropriate to your needs. You are naturally also free to decide not to award a licence at all.
All bibliographic metadata on Open Access LMU except the abstracts are available free of charge under the licence "Creative Commons — CC0 1.0" for free re-use.
If your publication was created within the framework of EU funding, the "Unit VIII.3 Research Funding" has compiled the most important information on the Open Access publication of your research results in the following factsheet:
If you would like to upload your publication to "Open Access LMU", you will be asked for the details of your EU-funded project during the upload process: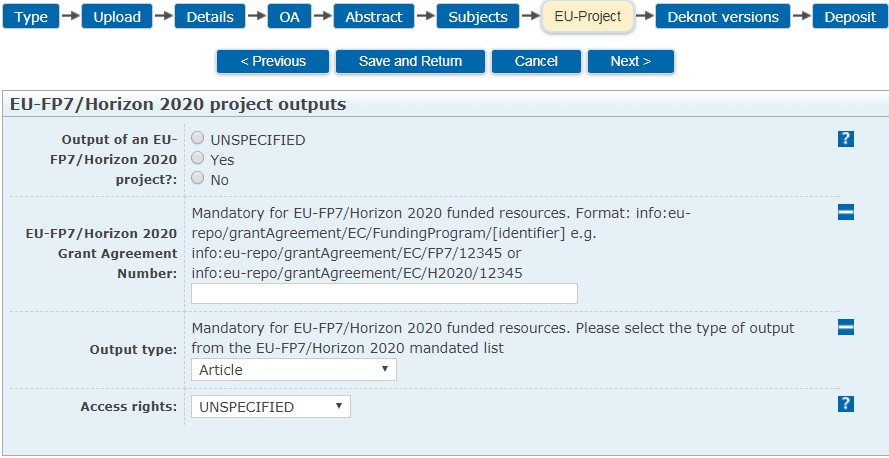 If you have any questions on the publication process, or should you encounter any technical problems, please contact a member of the Electronic Publications Department (Andrea Dorner or Vanessa Gabriel):
Universitätsbibliothek der LMU München
Referat für Elektronisches Publizieren
Geschwister-Scholl-Platz 1
80539 München

Visitors' address
Leopoldstr. 13
80802 München
Building 1, Room 1110 / 1111

Tel: +49-(0)89-2180-3236 / -9479
E-Mail:
Updated: 03. Juni 2019