Gollisch, Tim and Herz, Andreas V. M.
ORCID: https://orcid.org/0000-0002-3836-565X

(2012): The iso-response method. Measuring neuronal stimulus integration with closed-loop experiments. In: Frontiers in Neural Circuits, Vol. 6, No. 104 [PDF, 3MB]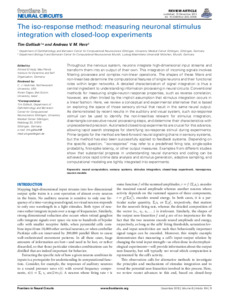 Preview

Download (3MB)
Abstract
Throughout the nervous system, neurons integrate high-dimensional input streams and transform them into an output of their own. This integration of incoming signals involves filtering processes and complex non-linear operations. The shapes of these filters and non-linearities determine the computational features of single neurons and their functional roles within larger networks. A detailed characterization of signal integration is thus a central ingredient to understanding information processing in neural circuits. Conventional methods for measuring single-neuron response properties, such as reverse correlation, however, are often limited by the implicit assumption that stimulus integration occurs in a linear fashion. Here, we review a conceptual and experimental alternative that is based on exploring the space of those sensory stimuli that result in the same neural output. As demonstrated by recent results in the auditory and visual system, such iso-response stimuli can be used to identify the non-linearities relevant for stimulus integration, disentangle consecutive neural processing steps, and determine their characteristics with unprecedented precision. Automated closed-loop experiments are crucial for this advance, allowing rapid search strategies for identifying iso-response stimuli during experiments. Prime targets for the method are feed-forward neural signaling chains in sensory systems, but the method has also been successfully applied to feedback systems. Depending on the specific question, "iso-response" may refer to a predefined firing rate, single-spike probability, first-spike latency, or other output measures. Examples from different studies show that substantial progress in understanding neural dynamics and coding can be achieved once rapid online data analysis and stimulus generation, adaptive sampling, and computational modeling are tightly integrated into experiments.
Actions (login required)
View Item