Zenker, Martin; Horn, Denise; Wieczorek, Dagmar; Allanson, Judith; Pauli, Silke; Burgt, Ineke van der; Doerr, Helmuth-Guenther; Gaspar, Harald; Hofbeck, Michael; Gillessen-Kaesbach, Gabriele; Kock, Andreas; Meinecke, Peter; Mundlos, Stefan; Nowka, Anja; Rauch, Anita; Reif, Silke; Schnakenburg, Christian von; Seidel, Heide; Wehner, Lars-Erik; Zweier, Christiane; Bauhuber, Susanne; Matejas, Verena; Kratz, Christian P.; Thomas, Christoph and Kutsche, Kerstin (2007): SOS1 is the second most common Noonan gene but plays no major role in cardio-facio-cutaneous syndrome. In: Journal of Medical Genetics, Vol. 44: pp. 651-656 [PDF, 1MB]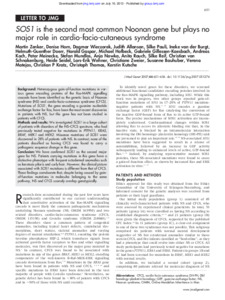 Preview

Download (1MB)
Abstract
Background: Heterozygous gain-of-function mutations in various genes encoding proteins of the Ras-MAPK signalling cascade have been identified as the genetic basis of Noonan syndrome (NS) and cardio-facio-cutaneous syndrome (CFCS). Mutations of SOS1, the gene encoding a guanine nucleotide exchange factor for Ras, have been the most recent discoveries in patients with NS, but this gene has not been studied in patients with CFCS.
Methods and results: We investigated SOS1 in a large cohort of patients with disorders of the NS–CFCS spectrum, who had previously tested negative for mutations in PTPN11, KRAS, BRAF, MEK1 and MEK2. Missense mutations of SOS1 were discovered in 28% of patients with NS. In contrast, none of the patients classified as having CFCS was found to carry a pathogenic sequence change in this gene.
Conclusion: We have confirmed SOS1 as the second major gene for NS. Patients carrying mutations in this gene have a distinctive phenotype with frequent ectodermal anomalies such as keratosis pilaris and curly hair. However, the clinical picture associated with SOS1 mutations is different from that of CFCS. These findings corroborate that, despite being caused by gain-of-function mutations in molecules belonging to the same pathway, NS and CFCS scarcely overlap genotypically.
| | |
| --- | --- |
| Item Type: | Journal article |
| Form of publication: | Publisher's Version |
| Faculties: | Medicine |
| Subjects: | 600 Technology > 610 Medicine and health |
| URN: | urn:nbn:de:bvb:19-epub-15831-5 |
| Alliance/National Licence: | This publication is with permission of the rights owner freely accessible due to an Alliance licence and a national licence (funded by the DFG, German Research Foundation) respectively. |
| Language: | English |
| Item ID: | 15831 |
| Date Deposited: | 10. Jul 2013 09:28 |
| Last Modified: | 25. Oct 2021 16:25 |
Actions (login required)
View Item