Hornuf, Lars and Schwienbacher, Armin (20. March 2014): Should Securities Regulation Promote Crowdinvesting? Discussion Papers in Economics 2014-27 [PDF, 932kB]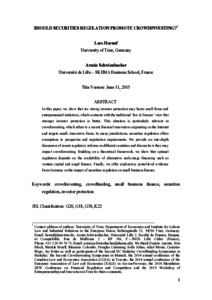 Preview

Download (932kB)
Abstract
In this paper, we show that too strong investor protection may harm small firms and entrepreneurial initiatives, which contrasts with the traditional 'law & finance' view that stronger investor protection is better. This situation is particularly relevant in crowdinvesting, which refers to a recent financial innovation originating on the Internet and targets small, innovative firms. In many jurisdictions, securities regulation offers exemptions to prospectus and registration requirements. We provide an into-depth discussion of recent regulatory reforms in different countries and discuss how they may impact crowdinvesting. Building on a theoretical framework, we show that optimal regulation depends on the availability of alternative early-stage financing such as venture capital and angel finance. Finally, we offer exploratory portal-level evidence from Germany on the impact of securities regulation on small business finance.
Item Type:
Paper
Keywords:
crowdinvesting, crowdfunding, securities regulation, investor protection
Faculties:
Economics
Economics > Munich Discussion Papers in Economics
Subjects:
300 Social sciences > 330 Economics
JEL Classification:
G20, G18, G38, K22
URN:
urn:nbn:de:bvb:19-epub-20975-9
Language:
English
Item ID:
20975
Date Deposited:
20. Jun 2014 09:36
Last Modified:
04. Nov 2020 18:21
References:

Ahlers, G.K.C., Cumming, D., Günther, C. and Schweizer, D. (2013) 'Equity Crowdfunding', working paper. Available at: http://ssrn.com/abstract=2362340.

Armour, J., Hansmann, H. and Kraakman, R. (2009) 'What is Corporate Law?', in: Kraakman et al. (eds) The Anathomy of Corporate Law: A Comparative and Functional Approach, 2nd Edition, Oxford: Oxford University Press.

Assmann, H.-D., Schlitt, M. and von Kopp-Colomb, W. (2010) 'WpPG Ver ProspG', 2nd Edition, Verlag Dr. Otto Schmidt.

Bagley, C.E. and Dauchy, C.E. (2003) 'The Entrepreneur's Guide to Business Law', 3rd Edition, Thomson West.

Braun, R., Eidenmüller, H., Engert, A. and Hornuf, L. (2013) 'Does Charter Competition Foster Entrepreneurship? A Difference-in-Difference Approach to European Company Law Reforms', Journal of Common Market Studies 51, 399-415.

Collins, L. and Pierrakis, Y. (2012) 'The Venture Crowd - Crowdfunding Equity Investments into Business', NESTA Report. Available at: http://www.ukbi.co.uk/media/Download%20Docs/The_Venture_Crowd_-_NESTA_-_2012.pdf.

Collins, L., Swart, R. and Zhang, B. (2013) 'The Rise of Future Finance: The UK Alternative Finance Benchmar Report'. Available at: http://www.funginstitute.berkeley.edu/sites/default/files/The_Rise_of_Future_Fina nce.pdf.

Cumming, D. and Johan, S. (2013) 'Demand Driven Securities Regulation: Evidence from Crowdfunding', Venture Capital: An International Journal of Entrepreneurial Finance, forthcoming.

Financial Conduct Authority (2013) 'The FCA's Regulatory Approach to Crowdfunding (and Similar Activities)',Consultation Paper CP13/13. Available at: http://www.fca.org.uk/your-fca/documents/consultation-papers/cp13-13.

Gompers, P. and Lerner, J. (2000) 'Money Chasing Deals? The impact of Fund Inflows on Private Equity Valuation', Journal of Financial Economics 55, 281-325.

Griffin, Z.J. (2014) 'Crowdfunding: Fleecing the American Masses', Case Western Reserve Journal of Law, Technology & the Internet, forthcoming.

Hazen, T.L. (2012) 'Crowdfunding or Fraudfunding? Social networks and the securities laws – Why the specially tailored exemption must be conditioned on meaningful disclosure', 90 North Carolina Law Review, 1735-1770.

Hildebrand, T., Puri, M. and Rocholl, J. (2013) 'Adverse Incentives in Crowdfunding', working paper. Available at: http://ssrn.com/abstract=1615483.

Hornuf, L. (2014) 'Braucht Deutschland ein Crowdinvesting Gesetz?', VentureCapital Magazin, forthcoming.

Hornuf, L. and Schwienbacher, A. (2014) 'Crowdinvesting – Angel Investing for the Masses?', working paper. Available at: http://ssrn.com/abstract=2401515.

Jensen, M.C. and Meckling, W.H. (1976) 'Theory of the Firm: Managerial Behavior, Agency Costs and ownership Structure', Journal of Financial Economics 3, 305-360.

Klöhn, L. and Hornuf, L. (2012) 'Crowdinvesting in Deutschland: Markt, Rechtslage und Regulierungsperspektiven', Journal of Banking Law and Banking 24, 237-266.

Knight, T.B., Leo, H. and Ohmer, A. (2012) 'A Very Quiet Revolution: A Primer on Securities Crowdfunding and Title III of the JOBS Act', 2 Michigan Journal of Private Equity & Venture Capital Law, 135-153.

La Porta, R., Lopez-de-Silanes, F. and Shleifer A. (2006) 'What Works in Securities Laws?' Journal of Finance 61, 1-32.

La Porta, R., Lopez-de-Silanes, F., Shleifer A. and Vishny, R.W. (1997) 'Legal Determinants of External Finance', Journal of Finance 52, 1131-1150.

La Porta, R., Lopez-de-Silanes, F. and Shleifer A. and Vishny, R.W. (1998) 'Law and Finance', Journal of Political Economy 106, 1113-1155.

Mulherin, J.H. (2007) 'Measuring the Costs and Benefits of Regulation: Conceptual Issues in Securities Markets', Journal of Corporate Finance 13, 421-437.

Olson, M. (1965) 'The Logic of Collective Action: Public Goods and the Theory of Groups', Cambridge, MA: Harvard Economic Studies.

Saxenian, A. (2000) 'Regional Advantage: Culture and Competition in Silicon Valley and Route 128', Cambridge, MA: Harvard University Press.

Weinstein, R.S. (2013) 'Crowdfunding in the U.S. and Abroad: What to Expect When You're Expecting', 46 Cornell International Law Journal, 427-453.

Zingales, L. (2009) 'The Future of Securities Regulation', Journal of Accounting Research 47 (2), 391-426.
Actions (login required)
View Item