Schlicht, Ekkehart
ORCID: https://orcid.org/0000-0001-8227-5451

(1981): Reference Group Behaviour and Economic Incentives. In: Journal of Institutional and Theoretical Economics, Vol. 137, No. 1 and: 125ff.-733ff [PDF, 410kB]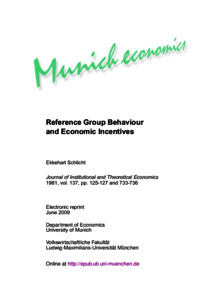 Preview

Download (410kB)
Abstract
These notes, published in 1981, introduce the concept of the social multiplier: If the behavior of agents is positively influenced by what members of their reference group do, this enhances the power of economic incentives.
Item Type:
Journal article
Keywords:
social multiplier, reference group behavior, incentives, imitation, conformity
Faculties:
Economics > Chairs > Chair of Institutional Economics (closed)
Economics
Subjects:
300 Social sciences > 300 Social sciences, sociology and anthropology
300 Social sciences > 330 Economics
JEL Classification:
D01, J30, Z13
URN:
urn:nbn:de:bvb:19-epub-10623-4
Item ID:
10623
Date Deposited:
05. Jun 2009 12:32
Last Modified:
29. Apr 2016 09:06
References:

BHATIA, N.P. and SZEGÖ, G, P. [1970]. Stability Theory of Dynamical Systems, Berlin-Heidelberg-New York.

DUESENBERRY, J.S,. [1947], Income, Saving, and the Theory of Consumer Behavior, Cambridge, Mass.

IRLE, M. [1975], Lehrbuch der Sozialpsychologie, Göttingen.

NIKAIDO, H., [1968], Convex Structures and Economic Theory, New York.

SINGER, E., and HYMANS, S., (eds.) [1968], Readings in Reference Group, New York.
Actions (login required)
View Item