Schlicht, Ekkehart
ORCID: https://orcid.org/0000-0001-8227-5451

(1978): Die Methode der Gleichgewichtsbewegung als Approximationsverfahren. In: Helmstädter, Ernst (ed.) : Neuere Entwicklungen in den Wirtschaftswissenschaften. Berlin: Duncker & Humblot. pp. 293-305 [PDF, 464kB]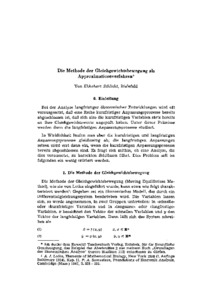 Preview

Download (464kB)
Abstract
(Approximation by Moving Equilibrium). The analysis of multivariate dynamical models can sometimes be considerably simplified by the assumption that one or several variables move infinitely fast to their equilibrium values. The method is known as the 'moving equilibrium method'. Various dynamical theories that build on equilibrated markets presuppose the validity of this method. The method is discussed and a theorem -- the moving equilibrium theorem -- is provided that establishes the validity of the approximation in the linear case.
Item Type:
Book Section
Keywords:
Moving equlibrium, temporary equilibrium, dynamical systems, successive approximation
Faculties:
Economics > Chairs > Chair of Institutional Economics (closed)
Economics
Subjects:
300 Social sciences > 300 Social sciences, sociology and anthropology
300 Social sciences > 330 Economics
URN:
urn:nbn:de:bvb:19-epub-3149-7
ISBN:
3-428-04240-9
Place of Publication:
Berlin
Signature:
UBM:0001/8 79-2071
Item ID:
3149
Date Deposited:
08. Apr 2008 13:08
Last Modified:
29. Apr 2016 08:55
References:

Allen, R. G. D. 1965. Mathematical Economics, 2. Auflage, London.

Erwe, F. 1964. Gewöhnliche Differentialgleichungen, 2. Auflage, Mannheim.

Hicks, J. R, 1946. Value and Capital, 2. Auflage, Oxford.

Hicks, J. R. 1965. Capital and Growth, Oxford.

Lefschetz, S. 1962. Differential Equations: Geometric Theory, 2. Auflage, New York.

Lotka, A. J. 1924. Elements of Mathematical Biology, New York 1956 (1. Auflage Baltimore 1924).

Marshall, A. 1949. Principles of Economics, 8. Auflage (Neudruck), London.

Samuelson, P. A. 1947. Foundations of Economic Analysis, Cambridge (Mass.) Schlicht, E. 1977. Grundlagen der ökonomischen Analyse" (rororo Studium 112) Reinbek.

Schneider, E. 1964. Einführung in die Wirtschaftstheorie, 11. Teil: Wirtschaftspläne und wirtschaftliches Gleichgewicht in der Verkehrswirtschaft, 9. Auflage, Tubingen.

Schneider, E. 1965. Einführung in die Wirtschaftstheorie, IV. Teil: Ausgewahlte Kapitel der Geschichte der Wirtschaftstheorie. 1 Band, 2. Auflage, Tübingen.
Actions (login required)
View Item