Klinker, Henrike, Haas, Caroline, Harrer, Nadine, Becker, Peter B.
ORCID: https://orcid.org/0000-0001-7186-0372

and Mueller-Planitz, Felix (2014): Rapid Purification of Recombinant Histones.

In: PLOS ONE 9(8), e104029 [PDF, 816kB]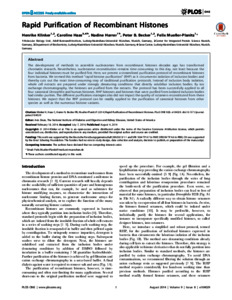 Preview

Download (816kB)
Abstract
The development of methods to assemble nucleosomes from recombinant histones decades ago has transformed chromatin research. Nevertheless, nucleosome reconstitution remains time consuming to this day, not least because the four individual histones must be purified first. Here, we present a streamlined purification protocol of recombinant histones from bacteria. We termed this method "rapid histone purification'' (RHP) as it circumvents isolation of inclusion bodies and thereby cuts out the most time-consuming step of traditional purification protocols. Instead of inclusion body isolation, whole cell extracts are prepared under strongly denaturing conditions that directly solubilize inclusion bodies. By ion exchange chromatography, the histones are purified from the extracts. The protocol has been successfully applied to all four canonical Drosophila and human histones. RHP histones and histones that were purified from isolated inclusion bodies had similar purities. The different purification strategies also did not impact the quality of octamers reconstituted from these histones. We expect that the RHP protocol can be readily applied to the purification of canonical histones from other species as well as the numerous histone variants.
Actions (login required)
View Item