Göhlert, Christian
ORCID: https://orcid.org/0000-0002-9903-3595

(2020): Sicher, sauber, selbstbestimmt? Kommunikationsstrategien in Stellenanzeigern aus dem japanischen Rotlichtmilieu. München [PDF, 2MB]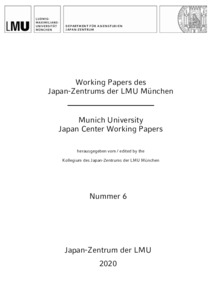 Preview

Download (2MB)
Abstract
(Paper includes an english summary.)
Job advertisements for a variety of jobs that could be broadly classified as sex work – ranging from positions as hostesses, models, and video chat operators to what amounts to outright prostitution – exist both as free magazines and in the form of websites. The former are a surprisingly common sight in Japan. Euphemistically called 高収入求人マガジン ('magazines that advertise high-paying jobs'), they can be found around subway stations, hotels and restaurants and are generally available free of charge. Besides the advertisements themselves, they usually feature various articles aimed at girls and young women and are modelled after fashion and lifestyle magazines.
This paper summarizes the results of a small-scale research project that was conducted with students of the Japan Center of LMU Munich in the winter of 2016 to familiarize the participants with the basics of content analysis. The goal of the project was to identify recurring themes and patterns in six issues each of two such magazines, Momoco and Shaleo, which were collected in Tokyo between July and December 2014. In addition to the ads themselves, both magazines feature editorial contents comprising a varied selection of articles, comics, and monthly columns.
Item Type:
Other
Keywords:
Japan; Prostitution; Inhaltsanalyse; Gesellschaft; Shaleo; Momoco, Japan; Prostitution; Content analysis; Society; Shaleo; Momoco
Faculties:
Cultural Studies > Department of Asian Studies > Japanese Studies > Munich University Japan Center Working Papers
Subjects:
300 Social sciences > 300 Social sciences, sociology and anthropology
300 Social sciences > 360 Social problems and social services
400 Language > 490 Other languages
URN:
urn:nbn:de:bvb:19-epub-72208-0
Place of Publication:
München
Annotation:
Ergebnisse eines Forschungsprojekts mit Etienne Mayer und den TeilnehmerInnen des MA-Kurses 'Fachsprache Gesellschaft' am Japan-Zentrum der LMU im Wintersemester 2016/17.
Language:
German
Item ID:
72208
Date Deposited:
20. May 2020 21:48
Last Modified:
09. Feb 2021 19:46
References:

Bröckling, Ulrich. Das unternehmerische Selbst: Soziologie einer Subjektivierungsform. Frankfurt am Main: Suhrkamp, 2007.

Kim, W. Chan, and Renée Mauborgne. Blue Ocean Strategy: How to Create Uncontested Market Space and Make the Competition Irrelevant. Boston, Mass: Harvard Business School Press, 2005.

Mayring, Philipp. Qualitative Inhaltsanalyse: Grundlagen und Techniken. 12., überarbeitete Auflage. Beltz Pädagogik. Weinheim: Beltz, 2015.

Yumeno Shion 夢乃紫音 Yo ni mo kimyô na otoko-tachi: hassen-nin to koi wo shita onna ga kataru 世にも奇妙なオトコたち―8000 人と恋をしたオンナが語る (Außergewöhnlich seltsame Männer: Eine Frau, die 8000 Leute geliebt hat, erzählt). Tokio: Kasuga Shuppan 春日出版, 2008.
Actions (login required)
View Item