Schlicht, Ekkehart
ORCID: https://orcid.org/0000-0001-8227-5451

(July 2006): Arbeitsmarkt und Beschäftigung. Discussion Papers in Economics 2006-18 [PDF, 454kB]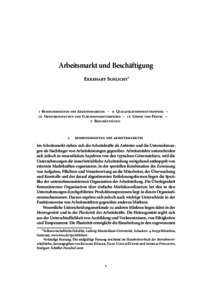 Preview

Download (454kB)
Abstract
The Labor Market and Employment (Handbook article).
The labor market differs from typical markets in important ways. We find job competition and collective mechanisms that set wages and working conditions. Changes in employment bring about changes in wages and prices and entail political and monetary responses. The goals of price stability and full employment cannot, usually, be attained simultaneously under the present conditions.
Abstract
Der Arbeitsmarkt unterscheidet sich grundlegend von anderen Märkten. Wir finden hier einen ausgeprägten Qualifikationswettbewerb und kollektive Mechanismen der Festlegung von Entlohnungs- und Arbeitsbedingungen. Beschäftigungsänderungen müssen im Zusammenhang mit Lohn- und Preisbewegungen gesehen werden. Die wirtschaftspolitischen Ziele von Vollbeschäftigung und Preisstabilität stehen bei den gegebenen Lohnsetzungsmechanismen typischerweise im Widerspruch zueinander.
Item Type:
Paper
Keywords:
employment, job competition, stagflation, labor unions, wage setting, Beschäftigung, Qualifikationswettbewerb, Arbeitsplatzwettbewerb, Stagflation, Gewerkschaften, Flächentarifverträge
Faculties:
Economics > Munich Discussion Papers in Economics > Labor
Subjects:
300 Social sciences > 300 Social sciences, sociology and anthropology
300 Social sciences > 330 Economics
JEL Classification:
E12, E61, J12, J38, J50
URN:
urn:nbn:de:bvb:19-epub-959-7
Place of Publication:
Stuttgart
Language:
German
Item ID:
959
Date Deposited:
23. Jun 2006
Last Modified:
17. Mar 2023 15:45
Actions (login required)
View Item