Haarbusch, Rainer and Mues, Andreas (1. May 2012): Die strategische Triage. Möglichkeiten der effizienten Mittelallokation in der internationalen Entwicklungszusammenarbeit. [PDF, 489kB]
This is the latest version of this item.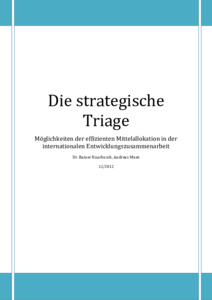 Preview

Download (489kB)
Abstract
Durch die moralische Analyse des Triagekonzeptes aus der medizinischen Versorgung wird neben der allgemein üblichen Verwendung dieser Konzeption in Notfallkontexten die Anwendbarkeit als Orientierungsmittel bei der strategischen Planung bi- und multilateraler Operationen in entwicklungspolitischen Programmen eruiert. Dabei zeigt sich die besondere Eignung der Triagekonzeption als Verwaltungsstrategie chronischer Mangelsituationen sowie ihre Fähigkeit vorhandene Ressourcen Effizienz maximierend einzusetzen. Anders als in der Debatte um positive wie negative Konditionalität im internationalen Menschenrechtsschutz ist die strategische Triage als utilitaristische Auswahlregel weniger stark politisch geprägt und orientiert sich weitaus stärker an der Wirkungseffizienz der eingesetzten Mittel als an den Möglichkeiten politischer Einflussnahme. Trotz umfassender moralischer Einwände gegenüber einer strategischen Anwendung bleibt die Triage unter der Annahme einer persistenten Unterversorgung in der internationalen Entwicklungszusammenarbeit letztlich alternativlos.
Item Type:
Paper
Keywords:
Entwicklungszusammenarbeit, Entwicklungshilfe, Entwicklungspolitik, Triage
Faculties:
Social Sciences
Subjects:
300 Social sciences > 300 Social sciences, sociology and anthropology
URN:
urn:nbn:de:bvb:19-epub-14093-5
Language:
German
Item ID:
14093
Date Deposited:
08. Oct 2012 06:09
Last Modified:
04. Nov 2020 12:54
References:

Abdulla,S.; Armstrong Schellenberg, J.; Nathan, R.; Mukasa, O.; Marchant, T.; Smith, T.; Tanner, M.; Lengeler, C. (2001): Impact on Malaria Morbidity of a Programme Supplying Insecticide-Treated Nets in Children Aged Under Two Years in Tanzania: Community Cross-Sectional Study". In: British Medical Journal 322.

Blöß, Timo (2004): Katastrophenmedizin: Zwang zur Selektion. In: Deutsches Ärzteblatt 101, Ausg. 33.

BMZ (2007): Entwicklungsorientierte Transformation bei fragiler Staatlichkeit und schlechter Regierungsführung. In: BMZ Konzepte 149.

Bundesamt für Bevölkerungsschutz und Katastrophenhilfe (2010): Katastrophenmedizin. Leitfaden für die ärztliche Versorgung im Katastrophenfall. München: Eigenverlag.

Bundesregierung (2010): Bericht der Bundesregierung über die deutsche humanitäre Hilfe im Ausland 2006 bis 2009. http://www.auswaertiges-amt.de/cae/servlet/contentblob/344844/publicationFile/54403/Bericht2006-2009.pdf , 07.03.2012.

Cohen, Joel E. (1995): How Many People Can The Earth Support?. New York/London: Norton & Company.

Collier, Paul (2007): The Bottom Billion: Why the Poorest Countries Are Failing and What Can Be Done About It. Oxford, New York: Oxford University Press.

Creese, Andrew; Floyd, Katherine; Alban, Anita; Guiness, Lorna (2002): Cost-efectiveness of HIV/AIDS Interventions in Africa: A Systematic Review of the Evidence. In: The Lancet 359.

EPO (2008): http://www.epo.de/index.php?option=com_content&task=view&id=3820&Itemid=68 , 07.03.2012.

Fund for Peace (2011): The Failed State Index. http://www.fundforpeace.org/global/?q=fsi-grid2011 , 07.03.2012.

Hardin, Garrett (1977): The Limits of Altruism. Bloomighton: Indiana University Press. - (1974): Living on a Lifeboat. In: Bioscience, BioScience 24.10, 561–68.

Hummel, Diana (2000): Der Bevölkerungsdiskurs: demographisches Wissen und politische Macht. Opladen: Leske + Budrich.

Masaki, E.; Green, R.; Greig, F.; Walsh, J.; Potts, M.(2002): Cost-Effectiveness of HIV Prevention Versus Treatment for Resource-Scarce Countries: Setting Priorities for HIV/AIDS Management, Bay Area International Group, School of Public Health. Berkeley: University of California.

IFPRI (2008): Welthunger Index: Herausforderung Hunger 2008. Jones, G.; Steketee, W.; Black, R. E.; Bhutta, Z. A.; Morris, S. S.; Bellagio Child Survival Study Group (2003): How Many Child Deaths Can We Prevent This Year?. In: The Lancet 362.

Malthus, T. R. (1992)[1798]: An Essay on the Principle of Population. Cambridge: Cambridge Univ. Press.

Powell, John M. (2007): Nur noch die Reste für die Armen. In: Frankfurter Rundschau vom 07.08.2007, 23.

Sachs, Jeffrey D. (2005): Das Ende der Armut. München: Siedler.

Sass, Hans-Martin (2006): Medizinische Ethik bei Notstand, Krieg und Terror. Verantwortungskulturen bei Triage, Endemie und Terror. In: Medizinische Materialien Heft 165. Bochum: Zentrum für medizinische Ethik.

Sefrin, Peter (2005): (Massen-)Notfallmedizin: Sichtung als ärztliche Aufgabe. In: Deutsches Ärzteblatt, 102 (20).

Sen, Armartya. (1981): Poverty and Famines. An Essay on Entitlement and Deprivation. Oxford: Clarendon Press. (1992): Inequality reexamined. Oxford: Clarendon Press (1996): Es gibt genug Nahrungsmittel - aber zu wenige haben Zugang dazu!. In: E+Z, 37 (10), 264–68.

Shikwati, James (2006): Fehlentwicklungshilfe. In: Internationale Politik, 61 (4).

UN (2005a): World Population Prospects: The 2004 Revision. Highlights. New York: Oxford Univ. Press. - (2005b): Population Challenges and Development Goals. New York: Oxford Univ. Press.

UNDP (2010): Human Development Report 2010.

WHO/UNAIDS (2004): Report on the Methods Used to Estimate Costs of Reaching the WHO Target 3 by 5.

Weltbank (1995): Zimbabwe Achieving Shared Growth Country Economic Memorandum. http://wwwwds. worldbank.org/servlet/WDSContentServer/WDSP/IB/1995/04/21/000009265_3961019095857/Rendere d/PDF/multi0page.pdf , 07.03.2012.
Available Versions of this Item
Actions (login required)
View Item