Steinbeißer, Dominik and Bader, Felix (23. December 2014): Lebenszufriedenheit in München 2014. Arbeitspapier des Instituts für Soziologie der Ludwig-Maximilians-Universität München Nr. 7. [PDF, 2MB]
This is the latest version of this item.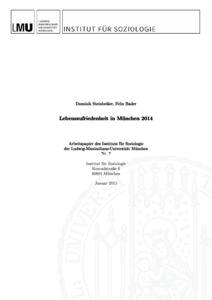 Preview

- Published Version
Download (2MB)
Abstract
In diesem Bericht werden die zentralen Ergebnisse einer im Frühjahr 2014 unter 731 Haushalten in München durchgeführten Studie zur Lebenszufriedenheit präsentiert und mit den Ergebnissen einer vorangegangenen Studie aus dem Jahr 2010 verglichen. Neben soziodemografischen Merkmalen wie Geschlecht, Bildung oder Einkommen stehen gesundheitliche, religiöse und soziale Unterschiede im Fokus der Analyse. Es zeigt sich, dass die Lebenszufriedenheit der Münchner Bevölkerung im Jahr 2014 etwa auf demselben Niveau wie vor vier Jahren ist. Menschen mit geringerem Einkommen sind weniger zufrieden. Menschen, die in einer Partnerschaft leben - verheiratet oder nicht - haben eine höhere Lebenszufriedenheit als Singles. Personen mit guter Gesundheit oder hohem Vertrauen in die Nachbarschaft sind ebenfalls zufriedener.
Item Type:
Paper
Keywords:
Zufriedenheit; Lebenszufriedenheit; München; Befragung; Umfrage; Geschlecht; Bildung; Einkommen; Religion; Gesundheit; Vertrauen; Partnerschaft; Beziehungsstatus; Trendstudie
Faculties:
Social Sciences
Social Sciences > Department of Sociology
Subjects:
300 Social sciences > 300 Social sciences, sociology and anthropology
URN:
urn:nbn:de:bvb:19-epub-22576-8
Language:
German
Item ID:
22576
Date Deposited:
16. Feb 2015 16:42
Last Modified:
04. Nov 2020 13:03
References:

Aristoteles (1956): Nikomachische Ethik. Übersetzt von Franz Dirlmeier. In: E. Grumach (Hg.) Aristoteles Werke in deutscher Übersetzung. Band 6, Berlin: Akademie Verlag.

Bauer, J. (2015): New Sample Designs. Improvements and Alternatives for Random Route Samples. Unveröffentlichtes Manuskript.

Bentham, J. (1841): A defence of usury: showing the impolicy of the present legal restraints on the terms of pecuniary bargains: to which is added a letter to Adam Smith (...) on the discouragement of inventive industry. Philadelphia: Manly and Orr.

Bentham, J. (1907). An introduction to the principles of morals and legislation. Oxford: Clarendon Press.

Bergheim, S. (2008): Die breite Basis gesellschaftlichen Fortschritts. Deutsche Bank Research (Hg.) Aktuelle Themen Nr. 426. Frankfurt am Main.

Brand, R., W. Schlicht, K. Grossmann und R. Duhnsen (2006): Effects of a Physical Exercise Intervention on Employees' Perceptions of Quality of Life: A Randomized Controlled Trial. Social and Preventive Medicine, 51, 14-23.

Diener, E., R.A. Emmons, R.J. Larson und S. Griffin (1985): The Satisfaction with Life Scale. Journal of Personality Assessment, 49, 71-75.

Durkheim, E. (1973 [1897]): Der Selbstmord. Neuwied, Berlin: Luchterhand.

Easterlin, R.A. (2001): Income and Happiness. Towards a Unified Theory. The Economic Journal, 111, 465-484.

Ferriss, A.L. (2002): Religion and the Quality of Life. Journal of Happiness Studies, 3, 199-215.

Frijters, P. und T. Beatton (2012): The Mystery of the U-Shaped Relationship between Happiness and Age. Journal of Economic Behavior & Organization, 82, 525-542.

Graham, C. (2008): Happiness and Health: Lessons - and Questions - for Public Policy. Health Affairs, 27, 72–87.

Helliwell, J. und R.D. Putnam (2004): The Social Context of Well-Being. Philosophical Transactions of the Royal Society B: Biological Sciences, 359, 1435-1446.

Keuschnigg, M. und T. Wolbring (2012): Reich und zufrieden? Theorie und Empirie zur Bedeutung von Wohlstand und Lebenszufriedenheit. Berliner Journal für Soziologie, 22, 189-216.

Knabe, A. und S. Rätzel (2007): Quantifying the Psychological Costs of Unemployment: The Role of Permanent Income. SOEPpapers on Multidisciplinary Panel Data Research, 32.

Kroh, M. (2006): An Experimental Evaluation of Popular Well-Being Measures. DIW Discussion Paper 546.

Raffelhüschen, B. und R. Köcher (2013): Deutsche Post Glücksatlas 2013. Knaus: München.

Schweikar, W.F. (1969): Religion as a Superordinate Meaning System and Sociopsychological Integration. Journal for the Scientific Study of Religion, 8, 300–307.

Statistisches Amt München (2014): Statistisches Taschenbuch 2014. München und seine Stadtbezirke. Landeshauptstadt München: München.

Steinbeisser, D., F. Bader, C. Ganser und L. Schmitt (2013): Gruppenbezogene Menschenfeindlichkeit in München. Forschungsbericht des Instituts für Soziologie der Ludwig-Maximilians-Universität München.

Thoits, P.A. und L.N. Hewitt (2001): Volunteer Work and Well-Being. Journal of Health and Social Behavior, 42, 115-131.

Veenhoven, R. (2014): Happiness in Germany. World Database of Happiness, Erasmus University Rotterdam. http://worlddatabaseofhappiness.eur.nl/hap_nat/nat_fp.php?cntry=69&name=Germany&mode=3&subjects=611&publics=51.

Wolbring, T., M. Keuschnigg und E. Negele (2013): Needs, Comparisons, and Adaptation: The Importance of Relative Income for Life Satisfaction. European Sociological Review, 29, 86-104.

Wunder, C., A. Wiencierz, J. Schwarze und H. Küchenhoff (2013): Well-being over the Life Span. Review of Economics and Statistics, 95, 154-167.
Available Versions of this Item
Actions (login required)
View Item