Heine, Jörg-Henrik and Spörrle, Matthias (July 2008): Understanding the Internet: Psychological word norms as indicators of query-specific internet word frequencies. In: UNSPECIFIED p. 314 [PDF, 460kB]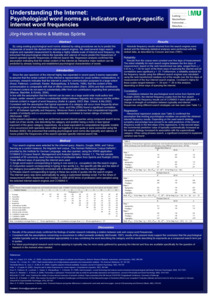 Preview

Download (460kB)
Abstract
By using existing psychological word norms obtained by rating procedures we try to predict the frequencies of search hits derived from internet search engines. We used several major search engines and repeated measurement to develop a highly reliable scale of internet word frequency. We presumed that psychological criteria like typicality and valence of nouns predict the frequencies of search-operator-specific frequencies of internet search hits. Regression analysis confirmed this assumption indicating that the verbal content of the internet as interactive mass medium can be predicted by already existing and established psychological characteristics of words.
Item Type:
Conference or Workshop Item (Poster)
Keywords:
internet, search engine, frequency, word norms, psychology, Internet, Suchmaschine, Häufigkeit, Wortnormen, Psychologie
Faculties:
Psychology and Education Science > Department Psychology > General Psychology II > Conference proceedings
Subjects:
100 Philosophy and Psychology > 150 Psychology
URN:
urn:nbn:de:bvb:19-epub-11664-6
Language:
English
Item ID:
11664
Date Deposited:
25. Jun 2010 07:35
Last Modified:
04. Nov 2020 12:52
References:

Blair, I.V., Urland, G.R., & Ma, J.E. (2002). Using internet search engines to estimate word frequency. Behavior Research Methods, Instruments, and Computers, 34(2), 286-290.

Conover, W.J., & Iman, R.L. (1981). Rank transformations as a bridge between parametric and nonparametric statistics. The American Statistician, 35, 124-129.

Hernández-Munoz, N., Izura, C., & Ellis A. W. (2006). Cognitive aspects of lexical availability. European Journal of Cognitive Psychology, 18(5), 730-755.

Keller, F., & Lapata, M. (2003). Using the web to obtain frequencies for unseen bigrams. Computational Linguistics, 29(3), 459-484.

Kraut, R., Patterson, M., Lundmark, V., Kiesler, S., Mukopadhyay, T., & Scherlis, W. (1998). Internet paradox, a social technology that reduces social involvement and psychological well-being? American Psychologist, 53(9), 1017-1031.

Marcus, B., Machilek, F., & Schütz, A. (2006). Personality in cyberspace: Personal web sites as media for personality expressions and impressions. Journal of Personality and Social Psychology, 90(6), 1014-1031.

McDonald, S. (1997, June). Exploring the validity of corpus-derived measures of semantic similarity. Paper presented at the 9th Annual CCS/HCRC Postgraduate Conference, University of Edinburgh.

Spörrle, M., & Rudolph, U. (2000). Was machen Sie beruflich? Evaluative Einstellungen und Wortnormen für Berufsbezeichnungen im Deutschen [What is your occupation? Evaluative attitudes and word norms for terms of occupation in German].

Zeitschrift für Experimentelle Psychologie, 47(4), 297-307. Stern, S. R. (2004). Expressions of identity online: Prominent features and gender differences in adolescents' world wide web home pages. Journal of Broadcasting and Electronic Media, 48(2), 218-243.
Actions (login required)
View Item