Müller, Daniela (2010): Phonetic factors influencing /l/-rhoticisation in Greek. In: Botinis, Antonis (ed.) : Proceedings of the third ISCA Tutorial and Research Workshop on Experimental Linguistics. Athens, Greece: University of Athens. [PDF, 1MB]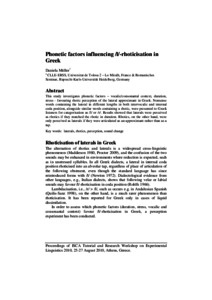 Preview
Creative Commons Attribution

- Published Version
Download (1MB)
Abstract
This study investigates phonetic factors – vocalic/consonantal context, duration, stress - favouring rhotic perception of the lateral approximant in Greek. Nonsense words containing the lateral in different lengths in both intervocalic and internal coda position, alongside similar words containing a rhotic, were presented to Greek listeners for categorisation as /l/ or /r/. Results showed that laterals were perceived as rhotics if they matched the rhotic in duration. Rhotics, on the other hand, were only perceived as laterals if they were articulated as an approximant rather than as a tap.
Item Type:
Conference or Workshop Item (Paper)
Form of publication:
Postprint
Keywords:
laterals, rhotics, perception, sound change
Faculties:
Languages and Literatures > Department 2 > Speech Science
Subjects:
400 Language > 400 Language
400 Language > 410 Linguistics
400 Language > 480 Classical and modern Greek languages
URN:
urn:nbn:de:bvb:19-epub-18061-4
Place of Publication:
Athens, Greece
Language:
English
Item ID:
18061
Date Deposited:
27. Jan 2014 12:26
Last Modified:
04. Nov 2020 12:59
References:

Baltazani, M. 2005. Phonetic variability of the Greek rhotic sound. Poster presented at Phonetics and Phonology in Iberia,Barcelona, 20-21.06.2005.

Barry, W. 1997. Another R-tickle. In Journal of the International Phonetic Association 27, 35-45.

Maddieson, I. 1980. A survey of liquids. UCLA Working Papers in Phonetics 50, 93-112.

Newton, B. 1972. The Generative Interpretation of Dialect. A Study of Modern Greek Phonology. Cambridge, CUP.

Proctor, M. I. 2009. Gestural Characterization of a Phonological Class: the Liquids. Doctoral Dissertation, Yale University.

Quilis-Sanz, M. J. 1998. Las consonantes [-r] y [-l] implosivas en Andalucía. Revista de Filología Española 78, 125-156.

Rohlfs, G. 1966. Grammatica storica della lingua italiana e dei suoi dialetti. Fonetica. Torino, Einaudi.
Actions (login required)
View Item