Finger, Jürgen
ORCID: https://orcid.org/0000-0003-4026-6826

and Möckel, Benjamin (eds.) (2022): Ökonomie und Moral im langen 20. Jahrhundert. Eine Anthologie. Göttingen: Wallstein. [PDF, 6MB]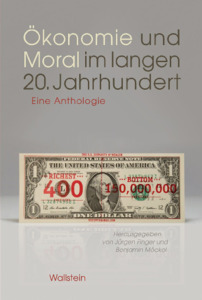 Preview
Creative Commons Attribution Non-commercial

(Sammelband)

- Published Version
Download (6MB)
Abstract
Schließen sich Ökonomie und Moral aus? Obwohl viele diese Frage intuitiv bejahen würden, ist ökonomisches Handeln im Kern immer auch soziales Handeln, das nur im Kontext von moralischen Deutungen und Kontroversen zu verstehen ist. Wie wurden moralische Argumente also verwendet, um ökonomische Praktiken und Strukturen zu kritisieren oder auch zu legitimieren? Ausgangspunkt der 20 Essays bildet jeweils eine konkrete historische Quelle, die nicht zu den Klassikern der ökonomischen Theorie zählt – etwa Werbebroschüren und Alltagsgegenstände, Bilder, Filme und Ausstellungsobjekte.
Abstract
Are economics and morality mutually exclusive? Although many would intuitively answer this question in the affirmative, economic action is, at its core, always social action that can only be understood in the context of moral interpretations and controversies. So how have moral arguments been used to criticise or legitimise economic practices and structures? The starting point of each of the 20 essays in this collection is a concrete historical source that does not belong to the classics of economic theory - such as advertising brochures and everyday objects, pictures, films and exhibition objects.
Abstract
L'économie et la morale s'excluent-elles mutuellement ? Bien que beaucoup répondraient intuitivement par l'affirmative à cette question, l'action économique est toujours fondamentalement une action sociale, qui ne peut être comprise que dans le contexte d'interprétations et de controverses morales. Comment les arguments moraux ont-ils été utilisés pour critiquer ou légitimer les pratiques et les structures économiques ? Le point de départ de chacun des 20 essais rassemblés dans ce volume est une source historique concrète qui ne fait pas partie des classiques de la théorie économique - par exemple des brochures publicitaires et des objets du quotidien, des images, des films et des objets d'exposition.
Actions (login required)
View Item